Model Yacht Pond
Optimal Stormwater were engaged by Antoun Civil to install a CDS Gross Pollution Trap on the main drain entering the Model Yacht Pond at Centennial Park. The CDS is to replace an existing 1970's style trash rack and sediment trap which was no longer considered Best Practice. Despite the trash rack, the pond still suffered from siltation and high litter loads.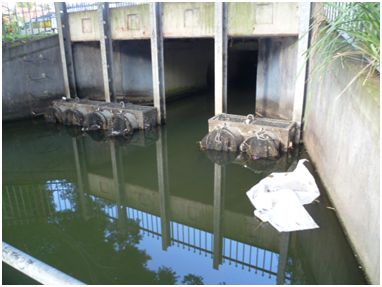 The project by Antoun Civil included desilting the ponds, replanting macrophytes to improve the wetland nutrient removal performance as well as upgrading the GPT.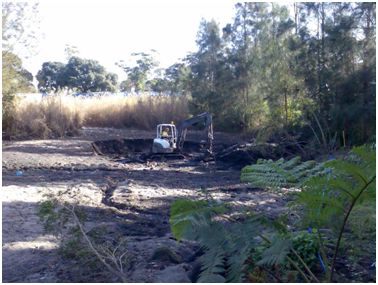 The photo above shows the desilting operation by Antoun Civil.
The design involved a modification of the existing trash rack as a diversion structure into the new GPT. The ground conditions which were running sand and high water table called for a Caisson style installation which Optimal Stormwater has substantial experience in.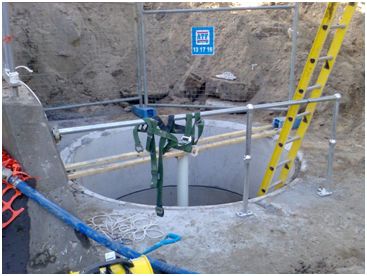 The design required substantial rework to improve constructability, maintainability, safety and operational performance of the GPT. Due to the Caisson installation, there were also serious OHS procedures which needed addressing.
The CDS GPT is a P2028 which can treat a flow of 800 litre per second and remove everything down to 2mm and a substantial proportion down to fine silt due to its tangential screen and vortex settling design. Due to the non-blocking function of the screen, it can effectively treat all flows up to the three month event which equates to around 95% of all flow by volume. It is considered Best Practice GPT design.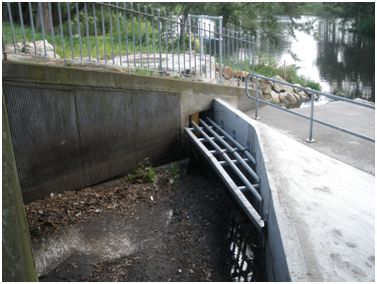 Above is a view of the GPT inlet with the bars which prevent people accessing the inlet. The GPT can be seen behind the fence.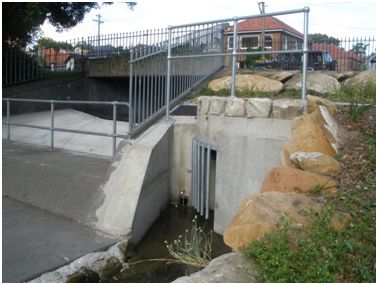 The above view is looking upstream at the outlet. The GPT is on the right. The GPT extends 7 metres below ground.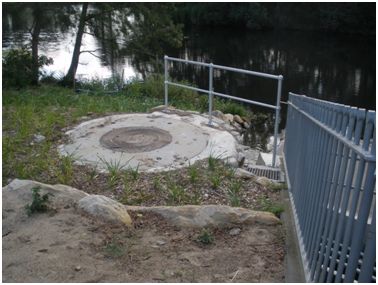 This view shows maintenance access to the GPT for cleaning and new safety railing. It will be cleaned by industrial suction.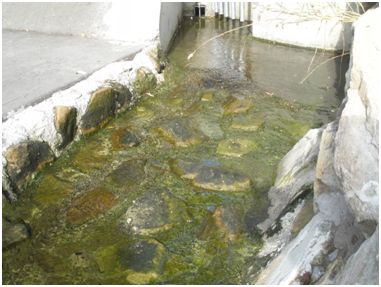 This photo aims to show the clarity of the treated water albeit at low flow. This would be expected from a catchment that is largely sandy soil. There was no sign of any litter below the outlet following weeks of heavy rain in late 2011 which is a big improvement over the old trash rack.
The project has been an absolute success with the pond looking better than it has for a long time.